<<< back to yachting guide index
Yachts with crew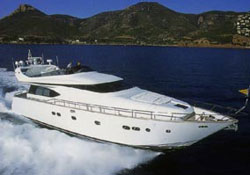 Chartering a yacht with crew will make your vacation unforgettable. This is the best option for those who would like to spend their vacation careless and let the others take care of navigation and everything else in order to enjoy the journey in full. It does not necessarily mean luxury or expensive. Crew can be hired on smaller boats as well, so it implies less expenses. If you are not an experienced sailor and you don't have the nautical certificate of competence, this could be the option for you. You don't have to hire all the crew, a skipper or a hostess will take care of everything; navigation, safety, cooking, cleaning...
They will always be at your disposal, so your only task would be to enjoy and rest.

As we have already mentioned, the skipper is responsible for navigation, while the rest of the crew takes care of all the other duties. Though they are always at your disposal, they won't disturb you during your journey, for each of them has his/her own cabin on board. You can let them lead you through the beauties of Italy or you can play an active role in planning your tour while sailing this beautiful coast.

Abandon yourself to an unforgettable journey along the Italian coast and let your professional crew take care of duties on board. You may thing this is far too expensive and your standard cannot match all this. However, you can always take a smaller sailing boat or a catamaran instead of chartering a yacht, and hire a skipper or a crew as well.
<<< back to yachting guide index
Copyright notice: this text is copyrighted by us and it is allowed to copy it only if you clearly indicate our autorship somewhere on the same page together with a link back to our site.